Melton's first Catholic School was opened on the 1st January, 1862, and was called St Catherine of Siena on the Kororoit Creek (behind Stockwell Stud). The school was a shingle roof wooden building, 40' x 18' with thirty-five children paying one shilling per week tuition fees. The teacher was a layman – Mr. James Wallace who, at one time, taught at St. Mary's Williamstown. The school closed in 1875 because of lack of numbers. It was destroyed by fire two years later.
Over 100 years later, the second Catholic School opened its doors on the 3rd February, 1976, in Church Street, Melton, in a building comprising eight modern classrooms, an administration and staff area and a tuckshop. The Principal was Mrs. Joan Woodhouse. The school's enrolment increased quickly and before too long there were two new catholic schools, St Anthony's in Melton South and St Catherine's in Melton West. St Catherine's is our sister school.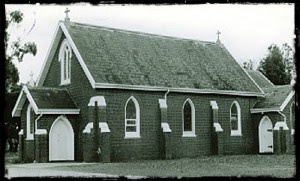 The school enrolment peaked in 1983 at 501 students and began to decline with the opening of St Catherine's in 1984.
Throughout the early 1990s a multi-aged educational philosophy was adopted and this remained into the 2000s. The school now sets its structure in response to the needs of the children. Currently, enrolments are steadily increasing and we have over 15 cultural groups represented which creates a wonderfully diverse school community. Building programs in the late 1990s, 2009/2010 and 2015/16 have resulted in wonderful, flexible learning spaces for our children. The school is now well resourced and the students have ample opportunities to achieve academic success. The future certainly looks positive for the students of St Dominic's.